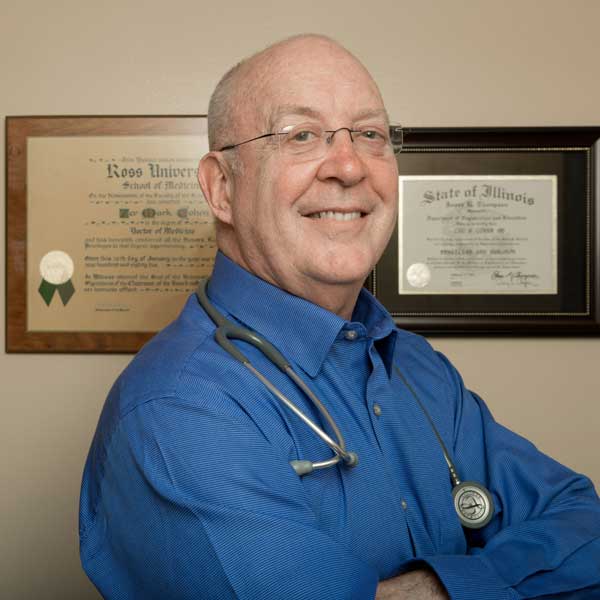 Dr. Zev Cohen is a Primary Care Physician, specializing in Internal Medicine. Born and raised in Brooklyn, Dr. Cohen attended Brooklyn College, and received his medical degree from Ross University School of Medicine. He completed his internship and residency at Chicago Medical School. After completing his medical training, Dr. Cohen worked at Great Lakes Naval Hospital in Great Lakes Illinois, and was in charge of their emergency room. Before establishing Healthcheck, Dr. Cohen was the head of the emergency room at Good Samaritan Hospital in Suffern, NY.
In 1991, Dr. Cohen created Healthcheck Immediate Medical Care in New City, New York, and moved the practice to Nanuet in 2003. As a testament to his commitment to his patients and their loyalty to him, a majority of his patients have been with him since the beginning, and he has seen and treated several generations of their families.
Dr. Cohen is a Spring Valley PBA designated physician, as well as a physician for the New City Volunteer Ambulance Corp. He has been designated a civil surgeon by United States Homeland Security. He is an attending physician at Bon Secours Good Samaritan Hospital in Suffern.
In his spare time, Dr. Cohen enjoys all forms of outdoor activity throughout the year. He likes to hike, fish, ski, and garden. "Ask me and I will show you pictures of my vegetable garden," says Dr. Cohen. In his office waiting room, patients can see Dr. Cohen's photographs taken in the Galapagos Islands and other beautiful locations. He enjoys learning and visiting other cultures, such as China, and taking in the beauty and wonder of the world, as he did on African Safari. For adventure, Dr. Cohen has white water rafted down the Grand Canyon, took an RV trip through the Canadian Rockies, and piloted a barge down the Erie Canal. Although all this beauty and excitement exist worldwide, Dr. Cohen will be the first to confide that the beauty in Rockland County, and our surrounding areas can truly hold their own.