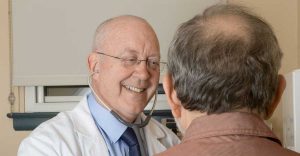 Dr. Cohen is in the news! "Dr. Zev Cohen Redefines the Patient Experience at New Nanuet Concierge Medicine Practice. Zev Cohen, MD, a highly respected family medicine physician with more than three decades of experience, offers a new approach to care at Healthcheck, his recently opened concierge medicine practice. The appeal of the concierge medicine model is expanding nationwide, inspired by patients seeking an enduring, meaningful connection with their physician.
"As we are seeing clearly and compellingly during the COVID-19 crisis, providing patients with prompt, focused attention and individualized care is more important than ever," says Dr. Cohen, "but it is virtually impossible to deliver this level of care in a traditional practice."
At Healthcheck, a concierge or membership medicine practice, Dr. Cohen cares for significantly fewer patients, making a profound difference at every point of care. Same-day appointments for acute illness are readily available, either in-office or via telemedicine. Visits are extended and unhurried, with time to manage complex issues and chronic conditions as well as focus on an individualized plan for proactive wellness. If hospitalization is needed, Dr. Cohen serves as his patient's advocate with attending physicians and specialists."  Click to read the full article.